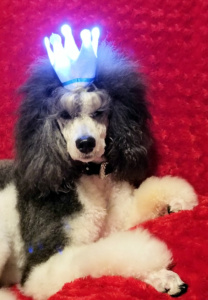 Kare's Strait Aces aka George fancies himself a ladies man. He is full of life, and loves to play just as much as he loves to cuddle. He is incredibly smart and learned how to open the door after watching  me do it just once! His conformation, bite, and temperament are excellent. He's also a great sport who tolerates his mom's crazy sense of humor and dress-up photos.  George has successfully sired puppies in the US and Canada.  He is a prolific sire and has excellent semen evaluations.  Best of all, his puppies are inheriting his handsome looks and winning personality.  Stud inquiries welcome; for info on stud service, click here.
Kare's Strait Aces aka George
AKC/UKC Phantom Parti Poodle
20 inches tall, 30 lbs
DNA Panel Clear
Hips: Good
Patellas: Good
OFA Cardiac & Thyroid Clearance
George is at stud to approved bitches. Click here for info.