Even though he's still young, your puppy will need to be groomed and learn how to behave during the  process. His coat will need regular washing, combing and brushing. He'll also need his toenails trimmed, his ears cleaned, and his teeth brushed. To be prepared for the grooming routine as soon as he comes home, have these grooming supplies ready and understand how to properly use them:
 Slicker brush
 Steel comb
 Detangling spray
 Nail clippers/dremel
 Shampoo and conditioner
 Qwik Stop (Just in case you nick a nail!)
 Dental care products
(See our Supplies Page for the list of Bernadorable- and Majestic Moyen-approved products for your new family member!)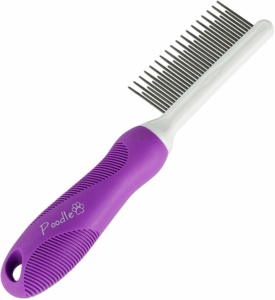 Like Poodles, Bernedoodles have hair, not fur, and shedding is minimal or non-existent. That's the plus side. The negative side is that it does need to be brushed regularly to prevent matting, and clipped every 8-12 weeks or so, depending on your preferences and the dog's activities. If your Bernedoodle is very active outdoors, you will likely find a shorter clip easier to maintain. However, many owners enjoy the bonding time of regular brushing and choose to keep their Bernedoodle in a fuller coat.
Generally speaking, a curly coat is less likely to shed, but more likely to become matted if not brushed regularly. Daily brushing will probably be required, as well as professional grooming
every 8-12 weeks.
If you want your puppy to look a certain way, it is best to take a picture along to show your groomer how you would like your puppy to look.  Take your pup to the groomer at around 14-16 weeks after he has completed his puppy vaccinations.  To get your puppy used to his groomer, ask the groomer to just do a bath, sanitary trim, ear cleaning, and nail trim on his first visit. This will give your puppy a chance to know their groomer and they will be all ready for a complete groom on their second appointment. I will do a sanitary trim 2-3 times and clip or dremel their nails 8 times by their 8 week birthday. They will have a bath and a blow dry before they go home.  Grooming will not be a new thing for them. 😊
​
​