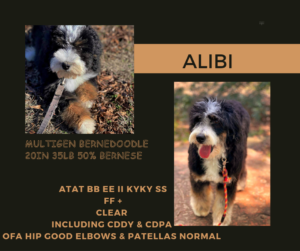 Alibi is an adorable classic tri-color multigen Bernedoodle. He is 50% Bernese & 50% Poodle. His dam and sire were F3.
He is only 20 inches and a stocky 38lb with that adorable Bernese build. He has a luxurious inky black lush coat. Alibi has a nice low-medium energy level. He loves to please and has been a breeze to train.
Alibi is genetically clear on his disease panel including CDDY, CDPA and DM.
He is atat BB EE II kyky SS (He can not produce a parti) + – curl but appears straight-coated. He does not shed 🙂
Alibi collects easily and is proven. Shipped cooled semen and side by side AI available.
Alibi is co owned with my breeder friend Christa Morgan at Red Rooster Kennels and is available for side by side AI in Oklahoma.
OFA Hips – Good
Elbows and patellas are normal