Welcome to Majestic Moyens & Bernadorable Bernedoodles! High-quality Bernedoodle puppies and Moyen Poodle puppies for your family!
(We are the home of King George & Kizmet the smiling Bernedoodle!)
Families looking for a well-bred, meticulously raised, pre-cuddled, home-raised puppy to become a cherished addition to their family can apply within. ?
I always tell potential families "I loved the fur nuggets first" and I am very particular about where they will go to live their very best life.   If you are approved and choose one of our puppies you will be considered part of our family.  I probably won't show up for Thanksgiving, but your questions, correspondence, and concerns are always welcomed.   I have 40 years experience raising and training wonderful family companions and I am happy to help with any support you need so that you and your puppy can have the smoothest transition and the relationship of a lifetime.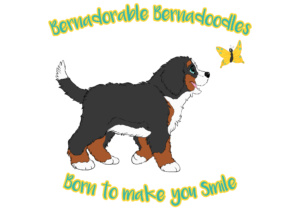 I have seen and worked with many breeds over the last 4 decades.  I can say without a doubt that my Bernadorable Bernedoodle puppies are a great choice for a family dog.   They are trainable, very minimal to no-shed, laid back, great for folks with allergies, a great size (we have puppies from 35-55 lbs depending on parents), not so small that they are too fragile for kids to play with and not so big they take up a lot of room, devoted to their people, and always happy (most pictures I get from families, I swear they are grinning). The Bernadorables are easy to live with and a great choice for your first dog. No insults intended, and you are far from a "dummy" for owning one, but they are so easy that I call them "dogs for dummies"! Lol!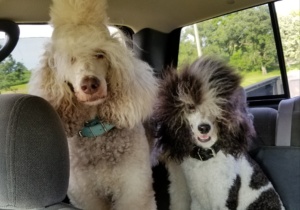 I NEVER saw myself as a poodle person.  I mean come on, I'm a cowgirl.  I used to train rottweilers and bullmastiffs, I wear boots and start young horses.  When I decided to make the change from shedding dogs,  my standard poodle Reiki joined our family.  I was HOOKED!  I have 3 poodles now:  my retired and spayed standard Reiki, and 2 moyen poodles – Paisley our future mom, and King George who rules my world.  They are the most loving, charismatic, trainable dogs, with huge personalities.   I love the moyen size; a lot of entertainment in a reasonable sized package at 25-35lbs.
All of our Moyen Poodle pups and Bernedoodle puppies are raised with Puppy Culture!  Why?  Because toys get chewed up, treats get eaten, blankets get threadbare, but a great start for a puppy who is pre-programmed to be confident in his own skin is the best gift I can give the fur nuggets.  We have all had anxiety in our own life.  I strive from day 1 to eliminate and minimize that for your puppy.
My dogs have always brought so many smiles to my life that it is my sincere hope that your puppy will do the same for you and your family. Please visit their individual pages to learn more about them. What a great honor to know a piece of my beloved dog's heart beats on and spreads joy to your family.