We are a little different than some other breeders you may find.   You won't find a "pay" button on our website – our puppies do not come from vending machines.  We don't have a lot of fancy professional pictures, but you will find daily pictures and video of puppies from the day they are born (taken with a cell phone).  We want families to see how everyday life is and prefer to be transparent in representing our dogs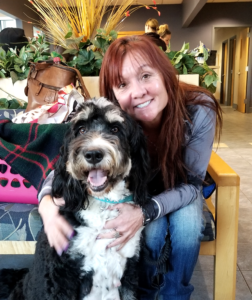 and the way we raise our puppies.  We think it is important for families to see how their puppy is being raised and be able to follow along with their training.  Our dogs do not live in kennels or outside, they are our family members and usually found lounging about or trying to make it more convenient to receive attention.   We know that families who choose a Bernadorable Bernedoodle  or Majestic Moyen poodle puppy are looking for a family member not a kennel dog,  so they are bred, raised, and shaped with that goal in mind.  We do strive for therapy prospects and incorporate medical equipment into the puppies' early training.  We are very proud that several of our puppies have gone on to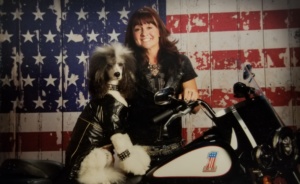 therapy work and two as Service Dogs.
It is our #1 priority to send home happy, healthy puppies, who have been raised with great care, to live their best life with their new families.  We utilize Puppy Culture protocol, ENS, and desensitization work in your puppy's most crucial first 8 weeks.  Puppies will have training with: litter box, crates, resource guarding, desensitization, jumping, and manding (sitting to get your attention).  Nutrition is key to health and development.  We are meticulous with the puppies' diet, as well as their mom's (prior to breeding,  during pregnancy, and after the puppies are born).
As to me specifically (Karri), I have been drawn to animals since I was a child.  My pets have given me a life
full of smiles, joy, and companionship.  I started training and showing in 4H and raised my first litter of puppies when I was 14.  I continued training, showing, and titling dogs in obedience, conformation, and agility.  I found I did not enjoy the competitive nature of the show ring but found great value in what I had learned about evaluating temperament and conformation in raising a truly wonderful, easy to live with companion.  Fast forward to present:  we live on 6 acres in the country with 4 horses, 2 overly affectionate puppy-loving polydactyl cats, 2 smiley bernedoodles , 3  attention-seeking poodles, and one cranky miniature schnauzer.  I have had "regular" jobs for the last three decades including engineering and accounting, good jobs I am grateful for, but which I did not find fulfilling.  I have found that matching puppies who are bred and raised to spread smiles and joy with their families is a much better purpose for my life.
It is our hope that each puppy brings joy to all they meet and that, decades later, their family says "Best Dog Ever".