King George stands at stud for approved bitches. Contact us if you are interested in service from George.
AKC-, UKC-, & CKC-registered
DNA color tested (phantom parti carrying brown, black, & red)
DNA disease panel clear
IVDD Clear
OFA Cardiac and Thyroid clearances
Penn Hip
Patellas and elbows vet approved
He is 20 inches tall and 30 lbs
40+ excellent semen evaluations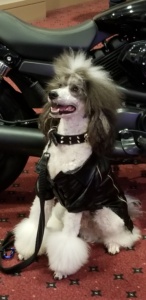 George is producing excellent temperament.  He has several puppies doing therapy work and a puppy who is a service dog.  Temperament is #1 here, but we are proud to say George is passing on great conformation, coat, and color too!  George is known for producing tri-color.  He is 100% tri-color with Bernese.
We are poodle and doodle friendly.  George has sired gorgeous Poodles, Bernedoodles, Labradoodles, and has his first 2 litters of Aussiedoodles on the way.
We require potential mates to be DNA panel tested  & have acceptable OFA or Penn Hip scores.  George is AI only.  We can send fresh-chilled or frozen semen or you are welcome to meet at our vet for a side by side insemination.  Please contact me for pricing.  I do occasionally agree to pick puppy and I do offer a discount for a cross he has not yet sired.  I can also help your determine what colors your potential litter will be.
Why choose George to sire your next litter?  It takes a great sire to produce outstanding puppies and a superior poodle to make great doodles.  I see some of the doodles out there looking a bit scraggly.  I think if you look at George's doodle and poodle pups you will see they are a step above – you might say on a pedestal.
Below are just a few of the pups he has sired.